Public Reading: Ice Bugs by Larry Donovan & Elaine Cust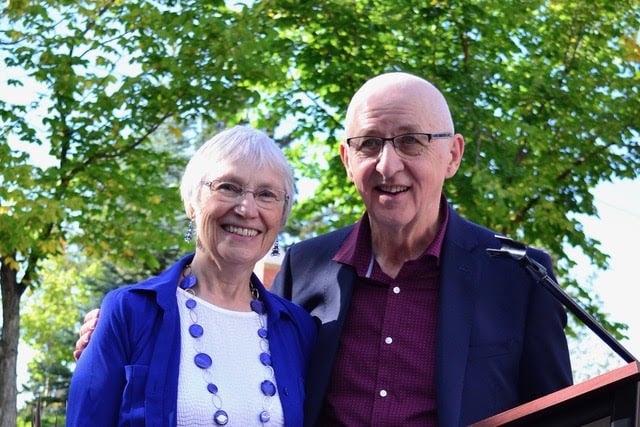 November 9 at 1:00 pm

-

1:30 pm

This is an Ice Bugs book reading. Ice Bugs is young adult fiction and the story line follows: Melting ice sheets and rising ocean levels are met by unlikely heroes. Curiously connected by a parrot — a young girl, a mathematician, and a microbiologist meet on a remote Arctic island where they discover a valley that sings, visit an ancient sunken Indian city, and encounter a couple of business tycoons who may or may not be on their side.

The reading will be followed by a book signing by the authors.

Elaine Cust
Elaine has always loved reading and writing. Her short story "Confession" was aired on Alberta Anthology on CBC Radio. She published a biography, On His Own Two Feet; edited a memoir titled Bend Like the Willow written by Susan Glasier; served as the editor of a collection of family stories, genealogy and photos titled From Irish Roots…The Descendants of James Cust and Rose Allen Cust; and wrote a novel, Here There Be Dragons, based on the lives of her ancestors in England and Ireland. Recently, Women's Words, a juried anthology celebrating twenty years of women's writing at the Faculty of Extension, University of Alberta included one of her stories, and an anecdote about her grandmother was in Stirring Memories, Reflections and Recipes, which was published as a fundraiser for the Stephen Lewis Foundation.

Larry Donovan
From Larry's time with CKUA, through his media work in London, England to his contributions as a regional producer with CBC Newsworld, he's been telling the important stories. Larry holds a master's degree in environmental management from the University of London. His radio documentary series, The Voice of Water, explored water issues around the world. His interest in the environment has led to the creation an exciting work of young adult fiction. Co-authored with Elaine Cust, Ice Bugs explores the consequences of climate change.