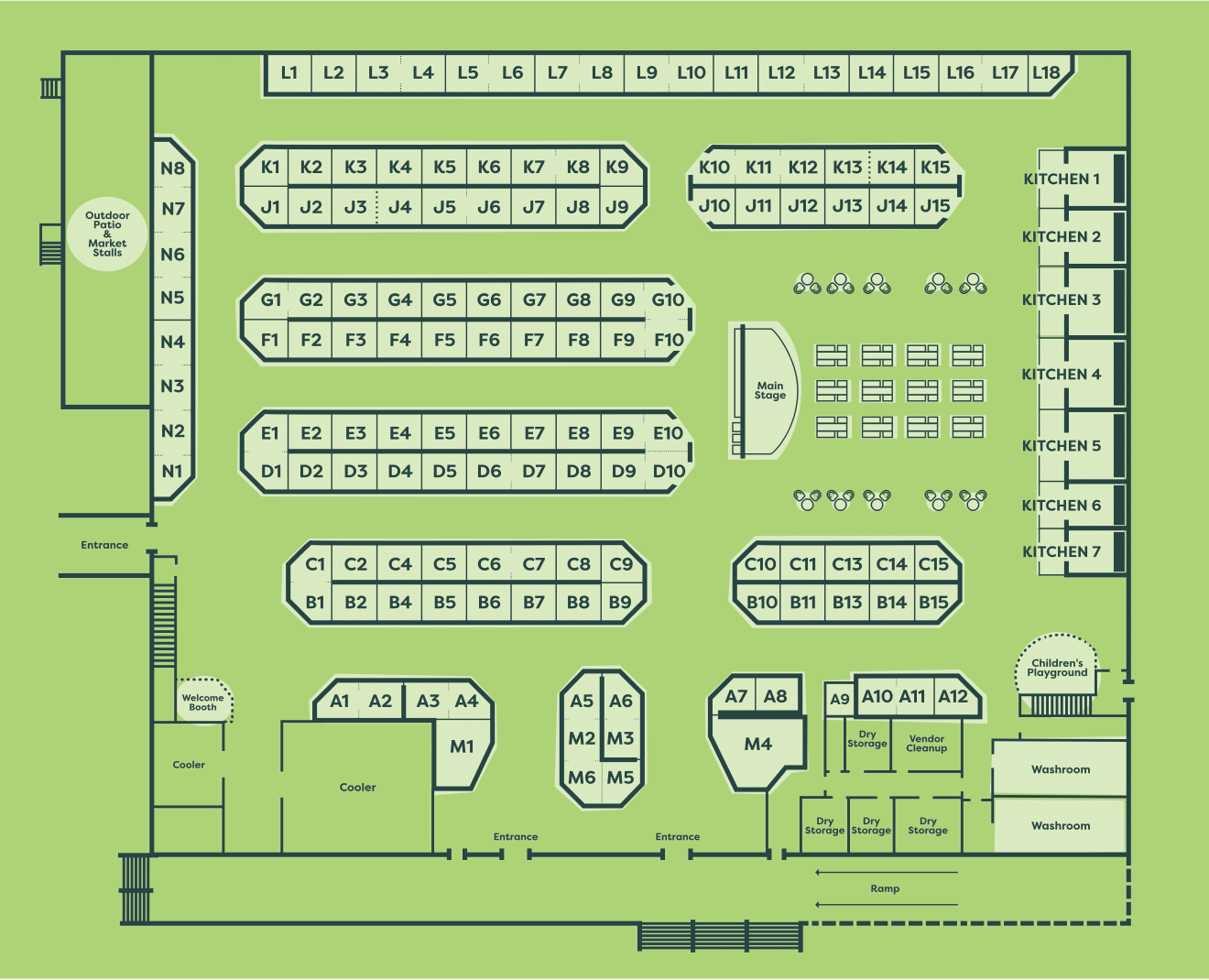 Vendor
Category
Stall
A Chime for Healing
Artisan Crafts
L18
Ace Coffee Roasters
Coffee & Tea
A1, A2
Alberta Bison Ranch
Meat & Eggs
K1
Alumination Canada
Artisan Crafts
K9
Amadaya's Studio
Artisan Crafts
F1
Arno's Fine French Pastry
Bakery & Desserts
B2
Auntie Jean's Fudge
Bakery & Desserts
D6
Birds & Bees Winery and Meadery
Alcoholic Beverages
J2
Blindman Brewing
Alcoholic Beverages
E7
Canadian Kettle Corn Inc.
Snacks & Preserves
Parking Lot
Catch of the week
Seafood & Fish
L12, L13
Caught in the cookie jar
Bakery & Desserts
A7
Coastal Charm Soaps
Bath & Beauty
F5
Confetti Sweets
Bakery & Desserts
D3
Cookie Crumbs
Bakery & Desserts
Food Hall Kitchen
Creations by Josephine
Artisan Crafts
F6
Could Chuck Wood
Artisan Crafts
Corner Info Booth
Dear Dog Treats
Animal Treats
K15
Delton Sausage House
Meat & Eggs
E6
Dovgan's Homemade Ukranian Food
Prepared Food
J14
East to West metal works
Artisan Crafts
K6
Easy as Pie
Prepared Food
B4
Effing Seafoods
Seafood & Fish
F7
El Gringo Foods
Prepared Food
E4
Ethan's Shop N'Play
Clothing
J12
Exmore Leatherworks
Clothing
K13, K14
Experior Financial Group
Insurance
A9
Family Tree Acres
Produce
E3
Fantasy Donuts
Bakery & Desserts
A12
Field Stone Fruit Wines
Alcoholic Beverages
D2
For the Love of Cheese – Vegan Cheezery Inc.
Cheese & Dairy
C2
Four Whistle Farm
Meat & Eggs
L5, L6
Fuzzy Monkeys
Clothing
G3
Going Nuts
Snacks & Preserves
A3, A4
Gold Forest Grains
Grains & Pulses
J1
Golomein Noodle House
Prepared Food
D7
Good Enough To Eat Soaps & Lotions
Bath & Beauty
Rotating
GoVeg Meal Kits
Food to Go Kitchen
Food Hall Kitchen
Grace's Traditional Foods
Snacks & Preserves
B11
Gramma Bee's Honey
Honey
J8
Helen's Veggies
Produce
G1, G2
Hello Mochi
Bakery & Desserts
C15
Highly Unlikely
Artisan Crafts
J7
Hoang Long Noodle House ltd
Prepared Food
D4, D5
Holden Colony Produce
Produce
K10, K11, K12
Honest Dumplings
Prepared Food
L11
The Honeycake Original
Bakery & Desserts
J13
Infused Mediterranean Foods
Prepared Food
B13
Irving's Farm Fresh
Meat & Eggs
L9, L10
It's Meyn Ukranian Food
Prepared Food
K5
Jack59 Body Co
Bath & Beauty
Rotating
Jackson's Gallery
Artisan Crafts
L1
Jamaican Chefmon
Prepared Food
C10
Jamaican Chefmon
Food to Go Kitchen
Food Hall Kitchen
Jen Ashley Jewelery
Artisan Crafts
J4 (Sundays only)
Kick Ass Caramels
Bakery & Desserts
B9
KoGi
Prepared Food
L15
Kousa Cushions
Home Decor
G5
Lacombe Fresh
Produce
F9, F10, G9, G10
Linda's Market Garden
Produce
C6, C7
Little Bear Gelato
Bakery & Desserts
B10
Little Jack Horner Meat Pies
Prepared Food
C13
LucyLoo
Aromatherapy
L7, L8
Magic Cut
Bath & Beauty
J15
Mala Foods
Food to Go Kitchen
Food Hall Kitchen
Mama G's Jam
Snacks & Preserves
B6
Meadow-Sweet Apiaries
Honey
C5
Medicine Hat Meat Traders
Snacks & Preserves
C11
Mediterranean Kitchen
Prepared Food
Food Hall Kitchen
Meuwly's
Snacks & Preserves
B7
Mini Kitchen
Prepared Food
E5
Morinville Greenhouses
Produce
J5, J6
Munro Jewellery Design
Artisan Crafts
J9
Natural Kitchen Delights
Snacks & Preserves
C4
Out House Mouse Solar Lamps
Artisan Crafts
J4
Pasta Delight
Prepared Food
E1, D1
Pikante
Bakery & Desserts
B1, C1
PJ Plus Size Creations & Professional Dressmaking
Clothing
G6
Planet Mushrooms
Produce
F8
Rebite Cafe
Bakery & Desserts
J11
Red Apple
Produce
E9, E10, D9, D10
Ribstone Creek Brewery
Alcoholic Beverages
J10
Riverbend Gardens
Produce
N1, N2, N3, N4
Siberian Meat Dumplings
Prepared Food
C14
Simple Simon pie
Prepared Food
A10, A11
Skyline Greenhouse
Produce
K7, K8
Soap So Co
Bath & Beauty
K2
Soma Design Co.
Artisan Crafts
F3
SoupTime.ca
Prepared Food
L14
South Island Pie
Prepared Food
L11
Soybean essentials
Bath & Beauty
G4
Stenia's Kitchen
Prepared Food
E8
Steve and Dan's Fresh BC Fruit
Produce
A5, M2, M5, M6
Stocks Greenhouse
Flowers
M1
Stony Plain Pie Shoppe Ltd.
Prepared Food
B8
Strathcona Spirits Distillery
Alcoholic Beverages
F2
Sunshine Blends
Non Alcoholic Beverages
A8
Sucre M
Bakery & Desserts
C9
Sylvan Star
Cheese & Dairy
L3, L4
TeAmo Fruit Tea
Non-Alcoholic Beverages
B9
The Blacksheep Farm
Meat & Eggs
L16, L17
The Farmhouse Bakery
Bakery & Desserts
M4
The Happy Camel
Prepared Food
B5
Tri Pow
Prepared Food
B14
Troubled Monk Brewery
Alcoholic Beverages
C8
Twiggy Sticks
Snack & Preserves
D8
Ukrainian Fine foods
Prepared Food
Food Hall Kitchen
Walker Orchards
Produce
N5, N6, N7, N8
Wendy's World
Artisan Crafts
K3
Western Sandwich Booth
Food to Go Kitchen
Food Hall Kitchen
West Grow Farms
Produce
A6, M3
Wilmar Farms
Grains & Pulses
G7
YEG Market Pizza
Prepared Food
E2
Our vendors make our market our stand out!
We prioritize local vendors and believe in showcasing the best of our community while increasing the availability of local products.
More shopping hours
With more shopping hours than any other farmers' markets in Edmonton, we bring you greater access to local products, and create more opportunities for you to make meaningful connections with local producers and makers.
Become a vendor!
We're always accepting applications for new vendors.
Our sponsors make our great programming possible!