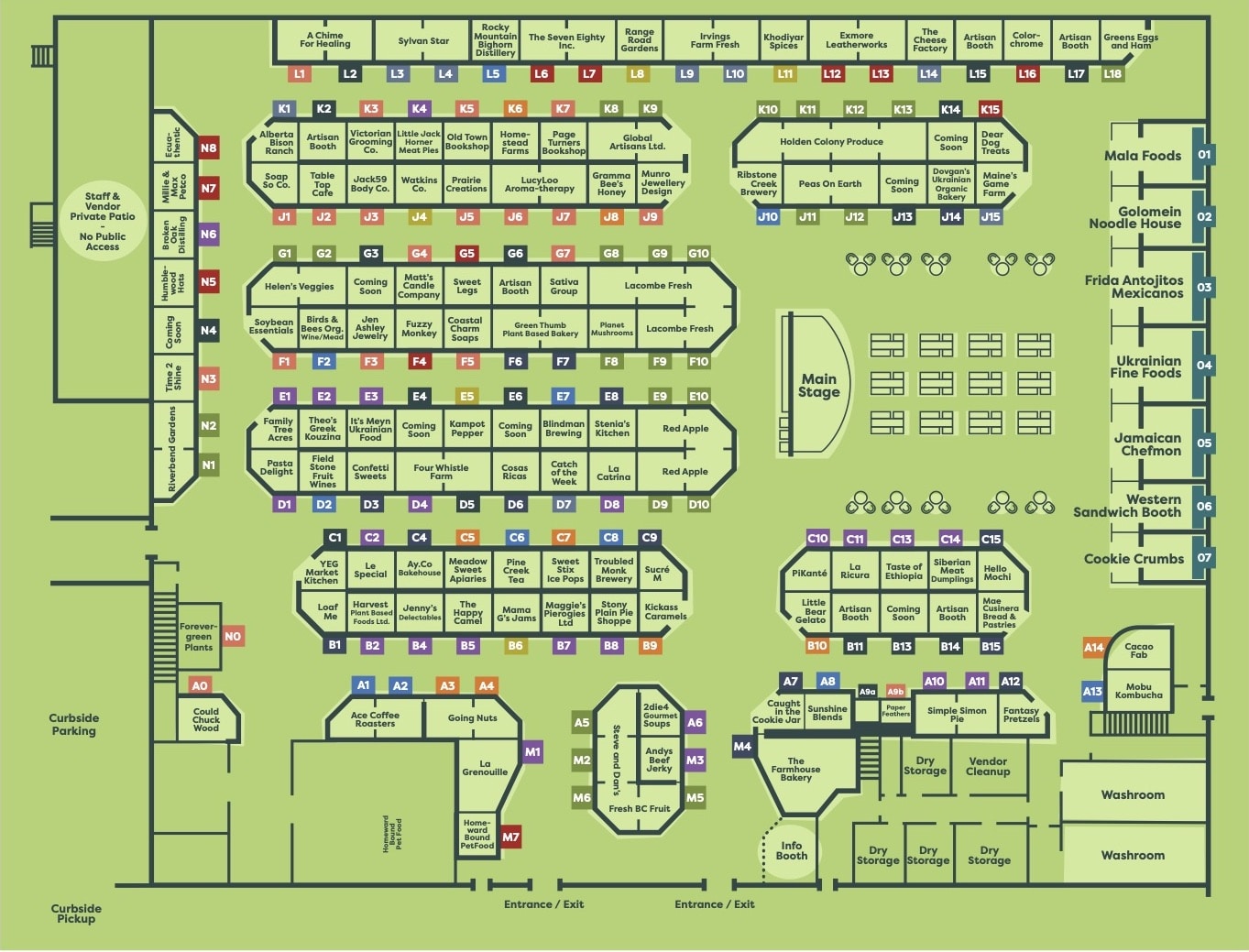 Vendor
Category
Stall
A Chime for Healing
Artisan Crafts
L1
A Taste of Ethiopia YEG
Prepared Foods, Injera Bread, Samosas
C13
Ace Coffee Roasters
Coffee & Tea
A1, A2
Alberta Bison Ranch
Bison, Beef, Goat Meat
K1
Andys Beef Jerky- 

new location!

Prepared Foods
M3
Ay. Co. Bakehouse
Pastries, Croissants
C4
Birds & Bees Winery and Meadery
Alcoholic Beverages
F2
Blindman Brewing
Alcoholic Beverages
E7
Broken Oak Distillery
Alcohol, Spirits
N6
Catch of the Week
Seafood & Fish
D7
Caught In The Cookie Jar
Bakery & Sweets
A7
The Cheese Factory
Deli, Cheese
L14
Coastal Charms
Health, Home & Beauty
F5
Philly Wonka's Chocolate Factory(Cacao Fab)-

new vendor!

Sweets, Popcorn
A14
L 16
Confetti Sweets
Bakery & Sweets
D3
Cookie Crumbs
Cookie Pucks! Coffee/Beans
Food Court, Restaurant
Cosas Rica 
Bakery
D6
Could Chuck Wood- Signs
Artisan Crafts
West Corner
Dear Dog Treats
Pet Food & Treats
K15
Dovgan's Organic Ukrainian Bakery
Bakery, Bread, Flour
J14
Ecuathentic
Alpaca Wool Clothing & Accessories
N8
K13, K14
Family Tree Acres
Microgreens, Sprout Trays
E1
Fantasy Pretzels
Bakery & Sweets
A12
The Farmhouse Bakery
Bakery & Sweets
M4
Field Stone Fruit Wines
Alcoholic Beverages
D2
Forever Green Plants
House Plants
N0
Four Whistle Farm
Poultry Meat & Eggs
D4, D5
Frida Antojitos Mexicanos Inc.
 Authentic Tacos
Food Court, Restaurant
Fuzzy Monkeys
 Kids' Clothing
F4
Global Artisans Ltd.
Baskets & Handbags (Fair Trade)
K8, K9
Going Nuts
Snacks & Prepared Food
A3, A4
Golomein Noodle House
Food + Take-out, Prepared Food
Food Court, Restaurant
Gramma Bee's Honey
Honey, Beeswax
J8
Greens, Eggs and Ham
Produce, Greens
L18
La Grenouille – Crepes
Crepes Made Fresh!
M1- Front Door (South)
Green Thumb Plant Based Bakery 
Vegan Bakery
F6, F7
The Happy Camel
Prepared Food, Bakery
B5
Helen's Veggies & Flowers
Produce, Bedding Plants
G2,G3
Harvest Plant Based Foods Ltd.
Prepared Foods, Soup
B2
Hello Mochi –

Part time hours! 

Bakery & Sweets
C15
Holden Colony Produce
Produce, Eggs, Meat
K10, K11, K12
Homeward Bound Pet Food–

 part time hours!

Petfood
M7- Front Door (South)
Homestead Farm
Honey, Eggs, Crafts
K6
Humblewood Hats
Clothing, Hats, Assessories
N5
Irvings Farm Fresh
Pork, Meat
L9, L10
It's Meyn Ukranian Food
Prepared Food
E3
Jack59 Body Co
Health, Home & Beauty
J3
Jamaican Chefmon
Food + Take-out, Hot Sauce
Food Court, Restaurant
Jen Ashley Jewelry
Artisan Crafts
F3
Jenny's Delectables –

New Vendor!

Prepared Foods, Stuffed Potato
B4
Jungle Book –

part time hours

House & Home
L15
Kampot Pepper
Preserves, Spices
E5
Khodiyar Spices
Preserves, Prepared Foods, Spices
B9
Kick Ass Caramels
Bakery & Sweets
B9
La Ricura-

coming soon

Prepared Foods
Lacombe Fresh
Greenhouse Produce
F9, F10, G9, G10
La Catrina –

new vendor

Prepared Foods, Empanadas
D8
Le Special –

new vendor

Prepared Foods, Satay
C2
Little Bear Gelato
Sweets, Gelato
B10
Little Jack Horner Meat Pies
Prepared Food
K4
Loaf Me
Bakery & Sweets
B1
Lucky's Speed Sauce–

new vendor! 

Caesar Seasoning
E6
LucyLoo
Essential Oils, Hand Sanitizer, Diffusers
J6, J7
Mae Cusinera Bread and Pastries

-new vendor

Bakery, Prepared Foods
B15
Maggie's Perogies
Prepared Foods, Polish
B7
Maine's Game Farm Ltd.
Elk Meat, Dog Bones
J15
Mala Foods
Restaurant Food
Food Court, Restaurant
Mama G's Jam
Preserves, Bakery
B6
Matt's Candle Company
Soy Candles
G4
Meadow-Sweet Apiaries
Honey, Beeswax, Soap
C5
Millie & Max Petco
Pet Furniture
N7
Mobu Kombucha–

new vendor!

Beverages
A13
Munro Jewellery Design
Artisan Jewellery
J9
Old Town Bookshop
Books
K5
Page Turners Book Shop
Books, Crafts
K7
Paper Feathers
Hand-weaved Baskets
A9
Pasta Delight
Pasta, Pesto, Green Onion Cakes
D1
Peas on Earth – Closed Sunday for Winter
Organic Produce
J11, J12
PiKante
Prepared Food
C10
Pine Creek Tea
Tea
C6
Planet Mushrooms (Myco)
Produce, Prepared Food
F8
Prairie Creations
Artisan Crafts, Wood, Toys
J5
Range Road Gardens
Jams & Micro Greens
L8
Red Apple BC Fruit
Produce, Juice, Dried Fruit
E9, E10, D9, D10
Ribstone Creek Brewery
Alcoholic Beverages
J10
Riverbend Gardens
Produce, Preserves
N1, N2, N3
Rocky Mountain Bighorn Distillery
Alcoholic Beverages
L5
Cellular Protocols (Sativa Group)- New Name! 
Health, Body Care
G7
Scott's Diecast & Toys–

New vendor!

Toys
J13
Siberian Meat Dumplings
Prepared Food
C14
Simple Simon Pies
Prepared Food
A10, A11
Soap So Co
Health, Home & Beauty
K2
SoupTime.ca
Prepared Food
A6
Soybean Essentials
Home & Beauty
F1
Stenia's Kitchen
Prepared Food, Bakery
E8
Steve & Dan's BC Fruit
Produce, Juice, Frozen/ Dried Fruit
A5, M2, M5
Stony Plain Pie Shoppe Ltd.
Prepared Food
B8
Sunshine Blends
Kombucha & Pressed Juice Blends
A8
Sucre M
Bakery & Sweets
C9
Sweet Legs
Clothing
G5
Sweet Stix Ice Pops
Bakery & Sweets
C7
Sylvan Star Cheese
Cheese, Dairy & Eggs
L3, L4
Table Top Cafe
Games, Puzzles, Home
J2
Time 2 Shine
Natural Cleaner
N4
The Seven80
Clothing, Hats
L6, L7
Theo's Greek Kouzina
Prepared Food, Bakery
E2
Troubled Monk Brewery
Alcoholic Beverages
C8
Tulip Farm Red Deer-

  Saturdays,

seasonal vendor 

Fresh Cut AB Flowers, Spring Tulips
Stage Area
Ukrainian Fine Foods
Food, Prepared Food
Food Court, Restaurant
Victorian Grooming Co.
Health, Home & Beauty
K3
Watkins Co. / Sunset Gourmet
Spices, Home
J4
Western Sandwich Booth
Food + Take-Out
Food Court, Restaurant
YEG Market Pizza
Prepared Food, KETO
C1

Artisan Collective Booths

"Our goal is to facilitate greater small business accessibility in Edmonton through an Artisan
Collective"

Artisans on a Daily Rotation
G6

Artisan Collective Booth

Friday:

alumination canada

Saturday:

alumination canada

Sunday:  

coming soon!

Artisans on a Daily  C11 Rotation

Artisan Collective Booth

Artisans Sharing a Stationary Booth
K2

Artisan Collective Booth

Friday:

Coming soon!

Saturday: 

goddess temple

Sunday:

Pawsome Pup Barkery

Artisans on a Daily Rotation
B11

Artisan Collective Booth

Friday: 

Coming soon! 

Saturday: 

coming soon! 

Sunday:

Coming Soon!

Artisans on a Daily Rotation
L15
Our vendors make our market our stand out!
We prioritize local vendors and believe in showcasing the best of our community while increasing the availability of local products.
More shopping hours
With more shopping hours than any other farmers' markets in Edmonton, we bring you greater access to local products, and create more opportunities for you to make meaningful connections with local producers and makers.
Become a vendor!
We're always accepting applications for new vendors.